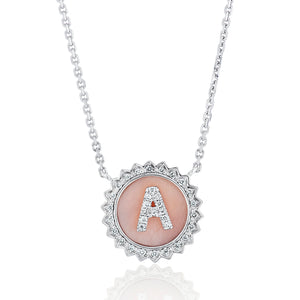 Small All Diamond Mother of Pearl Sun Pendant
Sale price

$1,095.00

Sale
Please fill out all required fields in order to calculate price
Request a Custom Design
✕
Custom Requests
We are leading manufacturers in custom created fine jewelry. If there is something that is not offered on the site, or your looking to update a family heirloom into something brand new, please provide images and a detailed description of what your envisioning!
Description & Details
• 14k diamond and mother of pearl small sun pendant.
• Fits only 1 diamond initial.
• Quarter of an inch.
• Diamonds on bezel and initial.
• Pictured is pink rainbow mother of pearl. Each mother of pearl is slightly different as it is natural.
• Measurements: 12mm.
• Each mother of pearl is different from the other. Not one is alike.
• Please note: Avoid the exposure of mother of pearl to coarse chemicals and water. Examples: Perfumes, citrus juice, chlorine, and any type of soap. It may contain harsh chemicals and which can be degrading to mother of pearl. If your jewelry needs to be cleaned, then you can use warm, soapy water only on the letter with soft tooth brush to clean the diamonds. 
For more details on Shipping + Processing and our Exchange Policy please see below.
I am in love with my necklace. I could not have asked for more💗💗